Battery service in Surrey
Your vehicle's battery is vital to making sure the electrical components work properly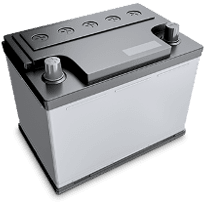 They say the engine is the heart of the car, but today it's really the battery.
With a dead battery modern engines won't even start. That's why you need to ensure that you have a properly functioning battery.
The battery is the heart of your vehicle and at A-Spec Auto we know what it takes to make sure it's working in great condition. Get all your vehicle's efficiency back with a cleaned or replaced battery. We work quick and professionally, give us a call or stop in today!
We will keep your battery clean and operating smoothly, and if you need a new one we will find the perfect one for your vehicle. We can take care of every battery issue including:
During this service, we will measure the battery output and compare to the manufacturer's specifications.
Our weather can do a number on your battery. To keep it healthy, we will clean the battery terminals and apply anti-corrosion protectant.
If your battery is dead on arrival, we can remove the old one, properly dispose of it and replace it with a high-quality battery.
Schedule regular battery checks
Avoid getting stranded due to a failed battery by having us check your battery today.
It's important to check in on your battery's health regularly. if you just leave the battery to its own devices then it will inevitably run into problems. We're talking about corrosions and other build up that will destroy your battery over time. Even if you're not sure if your battery needs service stop by, because chances are it does.
Battery replacement service
Car won't start? It's probably the battery. Get it replaced today at A-Spec Auto. We will pick the perfect one for your vehicle and ensure that you have secure connections and a proper installation. Get your vehicle back to the way it was when you bought it with a new battery.
Unfortunately, many battery failures come without a great deal of warning. However, in some cases, you may experience a slow crank or no-crank condition when starting your car. Your vehicle may require a jumpstart, or some components in your car (like your headlights or stereo) may not work properly. Another symptom to watch out for is corrosion on the battery terminals, which is usually a white or greenish buildup.
If your vehicle is displaying any of the signs above, your battery needs to be tested. Also if your vehicle's battery is dead, or will no longer hold a charge, we can quickly and affordably replace it, and we'll take care of recycling it, too.
We can take care of every battery issue.