Keep your wheels pointed in the right direction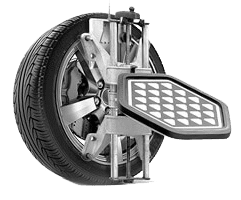 Keeping your tires balanced and properly aligned can give you a smoother ride, improved fuel efficiency, and extended life of your tires and drivetrain.
Surrey's wheel alignment experts
Wheel alignment service, also referred to as an alignment service at keeps you rolling straight, ensures you get the most miles out of your tires, and improves the overall safety of your vehicle. Wheels must be lined up correctly to keep suitable control of your car. Wheels that are out of position could cause driving to become difficult in addition to cause uneven ware on the tires. When your wheels are properly lined up, your car will offer a smoother ride. Further, we are one of the few shops in the area that uses the latest Hunter 3D wheel alignment technology to rectify the misaligned wheel angles and guarantee the most accurate and prompt solutions.
Some tire alignment problems overlap with potential other causes. We can verify whether or not the cause of your problem is related to unaligned wheels. The realignment of your tires and wheels can have great benefits like stopping irregular wear, restoring fuel economy, and restoring the overall performance of your vehicle.
Between everyday driving, potholes, curbs and your car's age, the need for a wheel alignment is rather common. We recommend an alignment check with every other oil change. A lot happens over the course of 10,000 km. With the vast amount of potholes on the road in the lower mainland, your alignment would be thrown off even faster. The longer you wait for an alignment, the more damages will occur.
Our alignment check includes:
Advanced 3D imaging technology
We are committed to providing you with the best customer service. That's why we use the industry-leading alignment technology by Hunter which provides the quickest and most accurate wheel alignment assessment. This advanced 3D imaging technology precisely measures your vehicle's alignment – computing what is right and wrong – all within a few minutes – that means you spend less time waiting.
It's recommended that you check your alignment whenever purchasing new tires to ensure you're on track to get the best tread life from them.
Time for a wheel alignment?