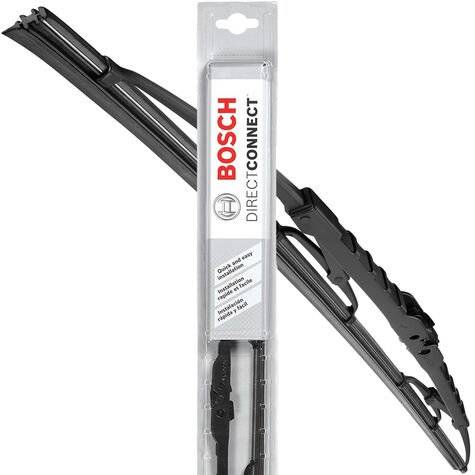 Squeaking or chattering wiper blades can become a real annoyance and create visibility hazards. Why endanger yourself and other road users by trying to drive with worn wiper blades? Install new Bosch wiper blades and drive safely through the blinding rain and snow.
Bosch DirectConnect is designed for dependable wiping performance. Every blade incorporates dual steel tension springs and a precision cut natural rubber wiping element. That means premium wiping performance and a clear view.
The graphite-treating wiping edge ensures almost noiseless operation, while the aerodynamic all-steel frame maintains superior blade contact at all speeds.
And the exclusive DirectConnect one-step system makes installation quick and easy.
Precision cut natural wiping edge
Bosch DirectConnect wiper blades have a natural rubber wiping edge and an all steel frame. This blade was designed for dependable performance and also comes with a one-step installation process.


All steel frame construction for dependable wiping
Precision cut natural rubber for a clear view
Graphite-treated wiping edge reduces friction and noise
Dual steel tension springs supports the wiping edge for a consistent clean wipe
Exclusive zinc dichromate primer for superior corrosion resistance
Direct Connect system for easy installation
Fits the most popular wiper arm types
Wiper Blade Design: All-season
Available sizes: 15″ to 28″ length (Pack of 1)
Quick and easy installation
Hook adapter installation:
Time for new windshield wipers?
Ask us to replace your windshield wipers during your next appointment.
Wipers should be changed when they no longer perform as expected, or no longer provide a high enough level of safety. The recommended replacement interval for preventative maintenance is every 6 months.